St Mary, Rievaulx
Rievaulx's church, formed from the ruins of the Abbey's slipper chapel, serves those who live in this hamlet, next to the world-famous Rievaulx Abbey (in the care of English Heritage),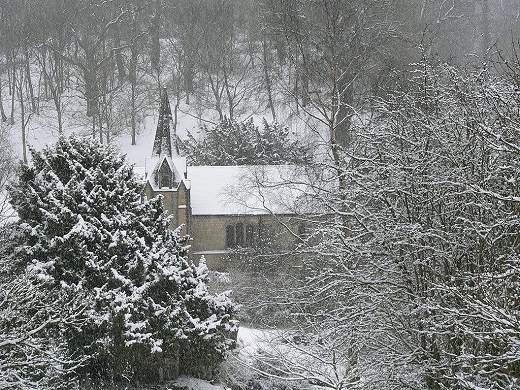 This stunning building is available at all times as a place of quiet and pilgrimage for visitors.
Originally the slipper chapel at the entrance to Rievaulx Abbey (some of the 13th century masonry is still visible), it was rebuilt as a village church by architect Temple Moore in 1906-7, who added a chancel and a small steeple.
Oak pegs do not hold stone roof tiles indefinitely, so a centenary restoration project in 2007 has seen in particular a new roof (plus a repainted clock face and a cockerel weather vane, designed to match that depicted in the recent find at Rievaulx of a fragment of medieval stained glass).
Situated at the north-east end of the village, a short distance from the west end of the Abbey church, it is squeezed on to the valley side, so, like there, the traditional east-west alignment has not been possible.
Services take place at 11am (Holy Communion BCP) on Christmas Day and Easter Day.
There are other occasional services, see weekly notice sheet for information.